Hersteller für Schwerlasttransportfahrzeuge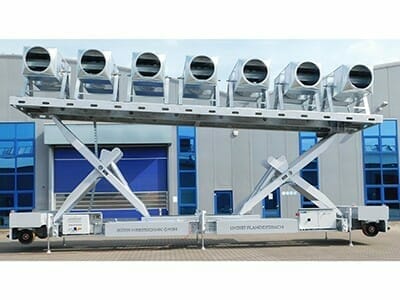 Sonderfahrzeuge für die Schwerlasttransporttechnik
Sonderfahrzeuge für Schwerlasten bieten wir in verschiedenen Kategorien und zahlreichen Ausführungen an: Frei verfahrbare Transportfahrzeuge und gleisgebundene Fahrzeuge für Radsatzwechsel, Drehgestellwechsel, Unterflur-Arbeiten und vieles mehr.
Besonders hervorzuheben sind die erstaunlichen Fähigkeiten der OmniDrive-Fahrwerke, welche ein enorm wendiges Manövrieren und punktgenaues Positionieren ermöglichen. Zu unseren Fahrzeugen sind diverse Ausstattungen erhältlich, unter anderem Batterieantriebe, integrierte Hubtische und Aufnahmen für diverse Komponenten.
Das OmniDrive-Fahrwerk
Das OmniDrive-Fahrwerk erlaubt ein feinfühliges Positionieren mit maximaler Last. Es ist mit diversen Lenkprogrammen ausgestattet, um für jeden Einsatz optimal gerüstet zu sein. Folgende Lenkfunktionen sind möglich:
Allradlenkung
Vorderradlenkung
Hinterradlenkung
Querfahrt
Diagonalfahrt
Kreisfahrt
Das Fahrwerk ist zum Fahren auf Hallenböden ausgelegt. Es ist darauf zu achten, dass der Boden die erforderliche Tragfähigkeit aufweist, um ein maximal beladenes Fahrzeug zu tragen; hierbei ist die Radaufstandskraft maßgebend.
Anwendungsgebiete
Unsere Sonderfahrzeuge werden zum innerbetrieblichen Transport und Handling von schweren und sperrigen Komponenten eingesetzt, hauptsächlich in der Industrie. Zum Beispiel in der Schienenfahrzeugbranche, in Metallverarbeitungsbetrieben, bei Herstellern von Betonfertigteilen oder in der Windkraftbranche.
Eigenschaften
Besonders robuste und langlebige Konstruktion
Extrem hohe Positionierungsgenauigkeit
Energieeffiziente elektrische Fahrantriebe; Batterien mit hoher Reichweite
Optionale Zusatzausrüstungen, z.B. Zusatzadapter zur Komponentenaufnahme
Elektronische Steuerung aus eigener Fertigung
Sicher und ergonomisch
Ihre Vorteile und Nutzen
Gutes Preis-Leistungs-Verhältnis: Hohe Positionierungsgenauigkeit zu relativ niedrigen Kosten
Mitarbeiter-Akzeptanz: Die Fahrzeuge werden von Ihren Mitarbeitern schnell verstanden und gut akzeptiert.
Bewährter Industriestandard, daher vielseitig einsetzbar
Günstige Unterhaltskosten dank wartungsarmen Bauelementen
Benefit from our many years of experience
Individually according to your wishes
We produce for you exactly according to your wishes. Whether standard products or special solutions, we have the right and tailor-made solution for all industrial sectors.
PRODUCTION & SERVICE FROM A SINGLE SOURCE
We manufacture almost every single part of our products directly at our site. This gives you above-average quality and our fast service for maintenance and repairs.
SPARE PARTS
Since we manufacture every assembly on site, we have many standard components in stock and can make them available to you quickly. We can produce special components at short notice.
SUSTAINABLE
With our site production, we reduce transport, emissions and traffic. We produce sustainably through optimized production processes and production processes.
FAST OFFER CREATION
We create a tailor-made offer for you at lightning speed. Thanks to our many years of experience and our wealth of knowledge, we quickly find the optimal solution for you.
24-MONTH WARRANTY
With us you receive not only a 12-month warranty, but directly a full 24 month warranty. You don't take any risks and you don't have any worries for the next few years.
Beispiele für unsere Schwerlasttransportfahrzeuge
Schwerlasttransportfahrzeuge für Ihr Unternehmen
Konnten wir Ihr Interesse an einem Schwerlasttransportfahrzeug wecken?