Manufacturers of cranes for inland vessels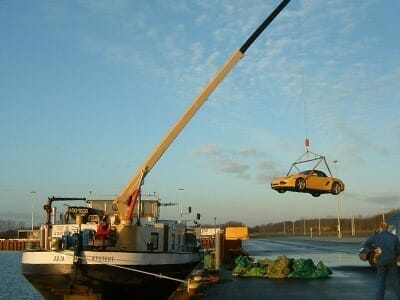 tailor-made ship cranes designed
Cranes for inland vessels from BÜTER: robust and space-saving
Our inland navigation cranes are popular not least because of their space-saving and robust design: We integrate the telescopic drive and the rope guide directly in the boom and construct the rope hoist according to the pulley principle, so that the rope cannot be hasty.
Similarly, our hydraulic hose winder ensures safe operation. The entire design is designed for high loads of inland navigation; the telescopic guide is carried out by means of solid rollers.
Applications
Our shipping cranes are mainly used to lift cars to and from deck.
From now on, our car cranes offer more load-bearing capacity to meet the increased demands of heavier cars (e-car). Despite the increased load capacity, we were able to reduce production costs.
Properties
Telescopic push-out drive and rope guide integrated in the boom
Hydraulic hose winders
Telescopic guide through solid rollers
Low-maintenance bearings for a long service life
High-quality hydraulic cylinders from our own production
Robust and compact design
Electronic control from our own production, individually programmed according to customer requirements
Your benefits and benefits
Individual solution tailored to your requirements
Low maintenance costs, low maintenance costs
Long service life
More space on board
Benefit from our many years of experience
Individually according to your wishes
We produce for you exactly according to your wishes. Whether standard products or special solutions, we have the right and tailor-made solution for all industrial sectors.
PRODUCTION & SERVICE FROM A SINGLE SOURCE
We manufacture almost every single part of our products directly at our site. This gives you above-average quality and our fast service for maintenance and repairs.
SPARE PARTS
Since we manufacture every assembly on site, we have many standard components in stock and can make them available to you quickly. We can produce special components at short notice.
SUSTAINABLE
With our site production, we reduce transport, emissions and traffic. We produce sustainably through optimized production processes and production processes.
FAST OFFER CREATION
We create a tailor-made offer for you at lightning speed. Thanks to our many years of experience and our wealth of knowledge, we quickly find the optimal solution for you.
24-MONTH WARRANTY
With us you receive not only a 12-month warranty, but directly a full 24 month warranty. You don't take any risks and you don't have any worries for the next few years.
Examples of our cranes for inland vessels
Cranes for inland vessels for your company
Were we able to arouse your interest in a crane for inland vessel?
For inland navigation, you trust our cranes. They can withstand high loads without any problems with the telescopic guide through solid rollers and the hydraulic hose winder. The telescopic drive and the rope guide according to the pulley principle reduce reel-free ropes to zero. Our cranes are particularly popular for moving cars safely to and from deck sboard-up.
We understand what they need. We therefore individually adapt the electronic control system to integrate the cranes smoothly into your operation. With its compact design, you cleverly ensure more space on board. The low-maintenance bearings maximize service life so you can enjoy long-term quality.