Hersteller für aufgeständerte Werkstattgleise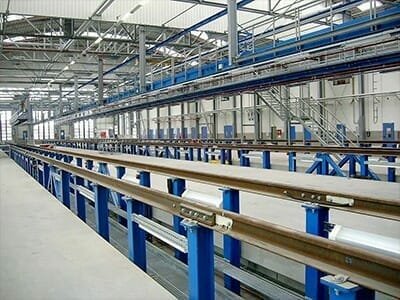 Aufgeständerte Gleisanlagen für effizientes und sicheres Arbeiten
Unsere aufgeständerten Gleisanlagen ermöglichen sowohl das schnelle, ergonomische Arbeiten an der Unterseite als auch seitlich an den Schienenfahrzeugen. In Kombination mit Gleisbrücken ist ein flexibler Radsatzwechsel und ein Unterflurkomponentenwechsel möglich.
Unsere Radsatzwechselanlagen sind perfekt auf die Gleisanlagen abgestimmt. Durch eine optimierte Anordnung und Anzahl der Gleisbrücken, kann auf eine Taktung des Schienenfahrzeuges verzichtet werden. Auf Wunsch konstruieren wir Gleisanlagen auch als Messgleis nach DIN 27202-10.
Anwendungsgebiete
Unsere aufgeständerten Gleisanlagen werden zur Wartung und Instandhaltung von Schienenfahrzeugen eingesetzt: für den Wechsel von Radsätzen, Arbeiten an Unterflurkomponenten, Inspektionen usw.
Eigenschaften
Montage der Gleisstützen mittels Einspannung in Fundamentlöcher
Optimal konstruierte Gleisstützen mit kleinen Kopfplatten und schlanken Dimensionen
Flexibel erweiterbar durch eine Vielfalt von Zusatzausrüstungen: Gleisbrücken, Seitentrittroste, Mittenlaufstege, schiebbare Abdeckungen usw.
Einfache und sichere Handhabung der Gleisbrücken
Elektrische leitende Schienenverbindung zur Triebstromrückführung
Ihre Vorteile und Nutzen
Maßgeschneidert: Individuell nach Kundenwünschen konfigurierte Lösungen.
Kostengünstige Installation dank einfacher Fundamente und leichter Montage der Stützen.
Sicherheit gegen Ströme aus der Oberleitung.
Viel Platz im Unterflurbereich dank schlanker Gleisstützen, z.B. mehr Raum für Technische Gebäude Ausstattungen (TGA).
Hohe Akzeptanz bei Mitarbeitern dank komfortabler und sicherer Einrichtung.
Benefit from our many years of experience
Individually according to your wishes
We produce for you exactly according to your wishes. Whether standard products or special solutions, we have the right and tailor-made solution for all industrial sectors.
PRODUCTION & SERVICE FROM A SINGLE SOURCE
We manufacture almost every single part of our products directly at our site. This gives you above-average quality and our fast service for maintenance and repairs.
SPARE PARTS
Since we manufacture every assembly on site, we have many standard components in stock and can make them available to you quickly. We can produce special components at short notice.
SUSTAINABLE
With our site production, we reduce transport, emissions and traffic. We produce sustainably through optimized production processes and production processes.
FAST OFFER CREATION
We create a tailor-made offer for you at lightning speed. Thanks to our many years of experience and our wealth of knowledge, we quickly find the optimal solution for you.
24-MONTH WARRANTY
With us you receive not only a 12-month warranty, but directly a full 24 month warranty. You don't take any risks and you don't have any worries for the next few years.
Beispiele für unsere a
ufgeständerten Gleisanlagen
Aufgeständerte Gleisanlagen für Ihr Unternehmen
Konnten wir Ihr Interesse an einer aufgeständerten Gleisanlage wecken?