Hersteller für Komponenten-Hebeanlagen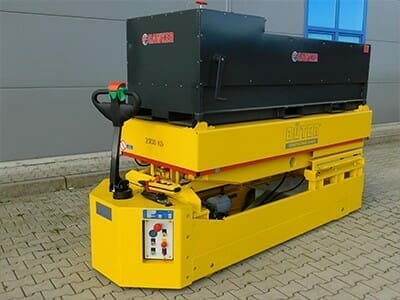 BÜTER Komponenten-Hebeanlagen: Perfekt konfiguriert für einen effizienten Betrieb
Dank unserer langen Erfahrung in der Bahntechnik, kennen wir die Bedürfnisse und Arbeitsabläufe im Detail. Dies schlägt sich in unserem vielfältigen Sortiment an Komponenten-Hebeanlagen nieder. Sie haben die Wahl zwischen stationären oder mobilen Ausführungen, bei den mobilen Versionen zwischen flurfahrbaren Modellen und 2-Wege-Fahrzeugen mit Batterieantrieb und Fahrdeichsel-Bedienung.
Die Hubplattform können Sie mit unterschiedlichsten Aufnahmen ausstatten, damit Sie jede gewünschte Komponente laden können (zum Beispiel Batteriesysteme oder Klimageräte). Auch Schiebe- und/oder Neigeplattformen stehen für den Ausgleich von Bodenunebenheiten zur Verfügung.
Anwendungsgebiete
Die Komponentenhebeanlagen werden für Wartungs- und Instandhaltungsarbeiten am Schienenfahrzeug eingesetzt, insbesondere zur seitlichen Übernahme/Übergabe von Komponenten wie zum Beispiel Batterien oder Klimageräten.
Eigenschaften
Flexible Anpassung an die jeweilige Anwendung, dadurch vielseitig einsetzbar
Mobile Systeme, an vielen Stellen entlang des Gleises nutzbar
Batterie-elektrischer Fahrantrieb und Hubwerksantrieb
Einfache und sichere Handhabung
Kompakte Bauweise mit innovativ konstruierter Hubplattform
Gleitgelagerte Massivrollen; wartungsarme Gleitlager
Hydraulikzylinder aus eigener Fertigung
Ihre Vorteile und Nutzen
Günstige Investition dank vielseitig einsetzbaren und flexibel anpassbaren Anlagen.
Schnell und sicher verfahrbar und einsetzbar.
Lange Nutzungsdauer: Langlebige Konstruktion, ausschließlich mit qualitativ hochwertigen Komponenten ausgeführt.
Günstige Unterhaltskosten dank wartungsarmen Bauelementen.
Effiziente Raumnutzung: Platzsparende Konstruktion mit hoher Kraftdichte.
Hohe Betriebsbereitschaft dank rascher Ersatzteil-Lieferung
Benefit from our many years of experience
Individually according to your wishes
We produce for you exactly according to your wishes. Whether standard products or special solutions, we have the right and tailor-made solution for all industrial sectors.
PRODUCTION & SERVICE FROM A SINGLE SOURCE
We manufacture almost every single part of our products directly at our site. This gives you above-average quality and our fast service for maintenance and repairs.
SPARE PARTS
Since we manufacture every assembly on site, we have many standard components in stock and can make them available to you quickly. We can produce special components at short notice.
SUSTAINABLE
With our site production, we reduce transport, emissions and traffic. We produce sustainably through optimized production processes and production processes.
FAST OFFER CREATION
We create a tailor-made offer for you at lightning speed. Thanks to our many years of experience and our wealth of knowledge, we quickly find the optimal solution for you.
24-MONTH WARRANTY
With us you receive not only a 12-month warranty, but directly a full 24 month warranty. You don't take any risks and you don't have any worries for the next few years.
Beispiele für unsere Komponenten-Hebeanlagen
Komponenten-Hebeanlagen für Ihr Unternehmen
Konnten wir Ihr Interesse an einer Komponenten-Hebeanlage wecken?