Hersteller für Radsatz-Durchdrehvorrichtungen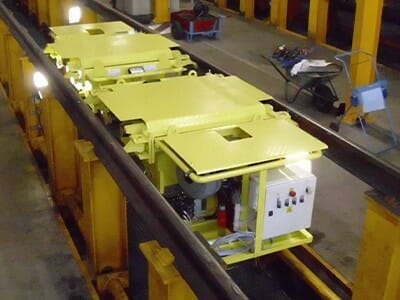 Radsatz-Durchdrehvorrichtungen, die keine Wünsche offen lassen
Radsatz-Durchdrehvorrichtungen ermöglichen das präzise Kontrollieren von Radsätzen im Rahmen von Wartungs- und Inspektionsarbeiten am Schienenfahrzeug. Die Vorrichtung wird entweder im Schienenfuß der Gleisanlage oder auf einem Verfahrwagen innerhalb der Arbeitsgrube bzw. unter dem aufgeständerten Gleis geführt und stützt sich während des Durchdrehvorganges auf der Fahrschiene ab.
Sie können mehrere Durchdrehvorrichtungen miteinander koppeln, um beide Radsätze des Drehgestells synchron zu drehen. Unsere Radsatz-Durchdrehvorrichtungen sind auch als Unterflur-Prüfeinrichtung einsetzbar, wenn sie mit unserem optionalen Ultraschall-Messinstrument ausgerüstet werden.
Anwendungsgebiete
Die Radsatz-Durchdrehvorrichtungen werden von der Schienenfahrzeugbranche für das Prüfen von Radsätzen eingesetzt.
Eigenschaften
Besonders robuste und langlebige Konstruktion
Tandembetrieb möglich (Master-Slave-Prinzip)
Hydraulischer Dreh- und Hubwerks-Antrieb
Energieversorgung über Kabel mit CEE-Stecker
Optional mit einem Ultraschall-Messinstrument ausrüstbar
Kompakte Bauweise mit innovativen Lösungen
Einsetzbar an verschiedenen Gleisen und für verschiedene Fahrzeuge
Ihre Vorteile und Nutzen
Reibungsloser Betrieb: Geringe Reparaturanfälligkeit, hohe und sichere Einsatzbereitschaft.
Lange Nutzungsdauer: Langlebige Konstruktion, ausschließlich mit qualitativ hochwertigen Komponenten ausgeführt.
Bedienerfreundlich: Leicht zu verstehen und bequem zu bedienen – dies sichert eine gute Akzeptanz bei den Mitarbeitern.
Effiziente Raumnutzung: Platzsparende Konstruktion mit hoher Kraftdichte.
Günstige Investitionskosten: Dank geringem Wartungsaufwand, langer Lebensdauer und universeller Einsetzbarkeit lohnt sich die Investition.
Benefit from our many years of experience
Individually according to your wishes
We produce for you exactly according to your wishes. Whether standard products or special solutions, we have the right and tailor-made solution for all industrial sectors.
PRODUCTION & SERVICE FROM A SINGLE SOURCE
We manufacture almost every single part of our products directly at our site. This gives you above-average quality and our fast service for maintenance and repairs.
SPARE PARTS
Since we manufacture every assembly on site, we have many standard components in stock and can make them available to you quickly. We can produce special components at short notice.
SUSTAINABLE
With our site production, we reduce transport, emissions and traffic. We produce sustainably through optimized production processes and production processes.
FAST OFFER CREATION
We create a tailor-made offer for you at lightning speed. Thanks to our many years of experience and our wealth of knowledge, we quickly find the optimal solution for you.
24-MONTH WARRANTY
With us you receive not only a 12-month warranty, but directly a full 24 month warranty. You don't take any risks and you don't have any worries for the next few years.
Beispiele für unsere
Radsatz-Durchdreheinrichtungen
Radsatz-Durchdrehvorrichtungen für Ihr Unternehmen
Konnten wir Ihr Interesse an einer Radsatz-Durchdrehvorrichtung wecken?