Manufacturer of mobile elevating work platforms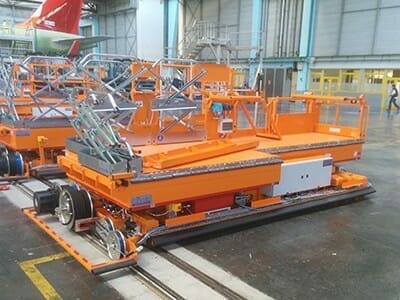 Your individual mobile elevating work platforms
Mobile work platforms are robust, durable and intelligent helpers. They are easy to operate, partly battery-operated, and have sophisticated safety mechanisms such as automatic collision protection.
These work platforms are popular with employees because the required material and tools can be transported directly on the platform.
Product
These mobile work platforms can be delivered as a rail-guided or freely movable version as desired. It is possible to realize automatic track guidance by means of induction loop, ribbon or coding strips in order to optimally adapt the lifting work platforms to the work processes.
We can design the platforms according to your wishes. Individual platform geometries, platform extensions or optional equipment such as folding and tilting platforms, swivel platforms, underflow protection, etc. are possible.
Our mobile lifting platforms comply with the last-day DIN EN 280.
Applications
The mobile work platforms are often used in blasting and painting booths in the rail vehicle industry to carry out work on the side, front or roof of the rail vehicles. In some cases, our work platforms are also used under high track systems for maintenance and repair work on underfloor components.
Properties
Battery-electric drive and lifting drive
Automatic charging contacts, thus safe charging
Individually equipable and configurable
Automatic tracking with induction loop, ribbon or coding strips possible
Compact design
Durable, robust construction
Laser-controlled collision protection
Your benefits and benefits
Smooth operation: Since the work platforms can be perfectly matched to your workflows, they reduce idle times and unnecessary effort.
Flexible use: The mobile work platforms can be used for various vehicles and applications.
Good employee acceptance: Your employees will appreciate the ease of use and the high practical benefits.
High safety standards: Version according to the last DIN EN 280 for mobile work platforms. Proven, intelligent security features.
Low investment costs: Thanks to its high utility value and long service life, your investment pays off for you.
Benefit from our many years of experience
Individually according to your wishes
We produce for you exactly according to your wishes. Whether standard products or special solutions, we have the right and tailor-made solution for all industrial sectors.
PRODUCTION & SERVICE FROM A SINGLE SOURCE
We manufacture almost every single part of our products directly at our site. This gives you above-average quality and our fast service for maintenance and repairs.
SPARE PARTS
Since we manufacture every assembly on site, we have many standard components in stock and can make them available to you quickly. We can produce special components at short notice.
SUSTAINABLE
With our site production, we reduce transport, emissions and traffic. We produce sustainably through optimized production processes and production processes.
FAST OFFER CREATION
We create a tailor-made offer for you at lightning speed. Thanks to our many years of experience and our wealth of knowledge, we quickly find the optimal solution for you.
24-MONTH WARRANTY
With us you receive not only a 12-month warranty, but directly a full 24 month warranty. You don't take any risks and you don't have any worries for the next few years.
Examples of our mobile elevating work platforms
Mobile elevating work platforms for your company
Were we able to arouse your interest in a mobile elevating work platforms?