Bogie lifting systems with maximum flexibility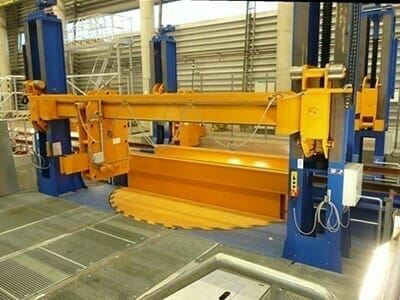 We offer a full range of systems and components for bogie and underfloor component change. This allows you to realize a system that is precisely tailored to your situation and needs.
Systems for stationary installation as well as mobile systems are available. Our extensive range of accessories allows you to use the bogie changeover system for the expansion and installation of other underfloor components, for example for weighing spring replacement, driving motor and transmission replacement or for heavy components such as power packs, transformers and air conditioning units.
Product
We can implement the stationary bogie changesystems in all variants: as transverse lyre-retractable systems to the track axis and underfloor or as lowering and rotatable systems.
The mobile bogie changeoversystems are realized in combination with raised track systems and track bridges, as systems that can be removed across the track bridge.
Bogie lifting systems are combined with support portals or support blocks for intercepting the car body. The installation of further turntables allows the further transport of the removed components within the workshop. In combination with lifting tables, different height levels can be balanced.
Applications
Our bogie changesystems are used by well-known railway companies and vehicle manufacturers for the maintenance and maintenance of rail vehicles.
Properties
Both stationary and mobile systems available
Versatile systems thanks to an extensive range of accessories
Easy and easy to use
Sophisticated, well-thought-out concepts based on many years of experience with leading railway companies and vehicle manufacturers
Electronic control from our own production, individually programmed according to customer requirements
Versatile expandable systems, thanks to a wide range of additional equipment: expansion grease, auxiliary adapters, system pallets, etc.
Particularly robust, durable construction
High-quality hydraulic cylinders from our own production
Low-maintenance plain bearings
Your benefits and benefits
Efficient workflows: Thanks to the perfect alignment of our bogie changeover system to your workflows, you reduce unnecessary effort and ensure short downtimes of the vehicles.
Acceptance by employees: The bogie lifting system is quickly understood by the employees and is often used, as it is optimally adapted to the working method. In addition, a high level of occupational safety is due to the sophisticated safety devices of our machines.
Optimal use of space: BÜTER systems are characterized by compact design with maximum lifting force or force density. This saves you space.
Long service life: Our machines are particularly robustly designed and designed for a long service life.
Short downtime: We store or manufacture all spare parts ourselves. This means that you will receive your spare parts within a very short time.
Lower construction costs: We can supply you with bogie changesystems that can be used with little or no foundation work, for example our mobile systems.
Flexibility: If your requirements change, we can adapt our system quickly and flexibly. This guarantees optimal use of your investment.
Benefit from our many years of experience
Individually according to your wishes
We produce for you exactly according to your wishes. Whether standard products or special solutions, we have the right and tailor-made solution for all industrial sectors.
PRODUCTION & SERVICE FROM A SINGLE SOURCE
We manufacture almost every single part of our products directly at our site. This gives you above-average quality and our fast service for maintenance and repairs.
SPARE PARTS
Since we manufacture every assembly on site, we have many standard components in stock and can make them available to you quickly. We can produce special components at short notice.
SUSTAINABLE
With our site production, we reduce transport, emissions and traffic. We produce sustainably through optimized production processes and production processes.
FAST OFFER CREATION
We create a tailor-made offer for you at lightning speed. Thanks to our many years of experience and our wealth of knowledge, we quickly find the optimal solution for you.
24-MONTH WARRANTY
With us you receive not only a 12-month warranty, but directly a full 24 month warranty. You don't take any risks and you don't have any worries for the next few years.
Examples of our bogie changeover systems
Bogie lifting systems for your company
Were we able to arouse your interest in a bogie lifting system?