Manufacturer of car turntables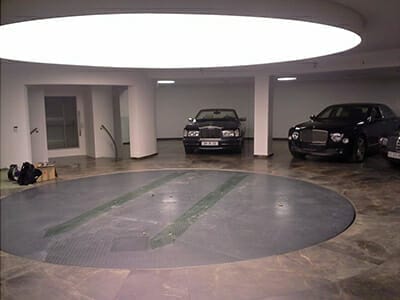 Tailor-made car turntables for indoor and outdoor use
Turning platforms for passenger cars must be robust, function reliably and also have an appealing look depending on the location and customer requirements. All these requirements are met by our car turntables.
Thanks to our in-house production and the wide range of customization options, our car turntables are very popular.
Of course, we also offer turning platforms for trucks.
Applications
Car garages and car parks use our car turntables to accommodate a large number of vehicles in the tightest of spaces. In the presentation rooms of car dealerships, our car turntables are used to present new high-quality vehicles in an appealing way.
Properties
Robust and durable construction
High payloads possible (standard up to 3,500 kg)
Compact design (standard 4.5 m diameter)
For indoor use with friction wheel drive, this enables a cost-effective solution with a height of only 140 mm (floating screed)
For outdoor use with swivel drive and hot-dip galvanized for weather protection
Electric switch box and hydraulic unit must be housed in the building protected
Electrically and/or hydraulically driven mechanics
Low maintenance
Tailor-made solution tailored to your needs possible
Customer-specific programming of the electronic control system
Your benefits and benefits
Optimal use of space: BÜTER systems are characterized by compact design. This saves you space.
Long service life: Our machines are particularly robustly designed and designed for a long service life.
Less repair costs: Our hydraulic lifting tables are safe to use.
Long service life: Thanks to its robust construction, the machine is very durable.
Smooth operation: We manufacture and store all spare parts ourselves. Therefore, we deliver every spare part within a very short time.
Benefit from our many years of experience
Individually according to your wishes
We produce for you exactly according to your wishes. Whether standard products or special solutions, we have the right and tailor-made solution for all industrial sectors.
PRODUCTION & SERVICE FROM A SINGLE SOURCE
We manufacture almost every single part of our products directly at our site. This gives you above-average quality and our fast service for maintenance and repairs.
SPARE PARTS
Since we manufacture every assembly on site, we have many standard components in stock and can make them available to you quickly. We can produce special components at short notice.
SUSTAINABLE
With our site production, we reduce transport, emissions and traffic. We produce sustainably through optimized production processes and production processes.
FAST OFFER CREATION
We create a tailor-made offer for you at lightning speed. Thanks to our many years of experience and our wealth of knowledge, we quickly find the optimal solution for you.
24-MONTH WARRANTY
With us you receive not only a 12-month warranty, but directly a full 24 month warranty. You don't take any risks and you don't have any worries for the next few years.
Examples of our turntables
Individual car turntables for your company
Were we able to arouse your interest in a car turntable?