Manufacturer of column lifters for wheelhouse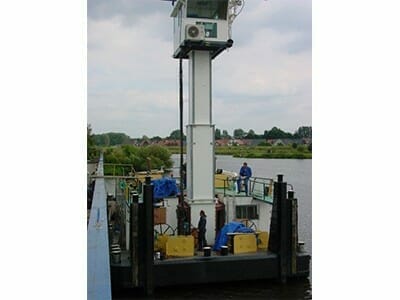 Hub shaft helmshouse lifter from BÜTER: Cleverly designed for high cost efficiency
Lifting shaft wheelhouse lifters are used to lift the ship's wheelhouse or lower it for bridge passages. A lifting shaft consists of interlocking pipes that are moved by means of a hydraulic cylinder. Depending on the available space between the hull and the ship's deck, larger or smaller lifting heights can be realized.
Büter has designed and patented a round lifting shaft. This unique round design has several advantages over the usual angular shape: greater stiffness with low dead weight, shorter production lead times, fewer components, optimal shape for effective corrosion protection.
Applications
The column lifters for wheelhouse are used in inland and coastal shipping. Since the lifting shaft protrudes into the hull, it is preferably installed on ships designed for the transport of containers.
Properties
Round shape with high stiffness with low dead weight
Construction with few components, thus cost-effective
Low-maintenance components
Robust and durable construction
Hydraulic cylinders from our own production
Electronic control with customer-specific programming
Your benefits and benefits
Long service life: Durable construction, designed exclusively with high-quality components.
Low maintenance costs thanks to low-maintenance components.
Longevity: Robust construction, insensitive to external influences.
Lower investment costs thanks to design with fewer components.
Benefit from our many years of experience
Individually according to your wishes
We produce for you exactly according to your wishes. Whether standard products or special solutions, we have the right and tailor-made solution for all industrial sectors.
PRODUCTION & SERVICE FROM A SINGLE SOURCE
We manufacture almost every single part of our products directly at our site. This gives you above-average quality and our fast service for maintenance and repairs.
SPARE PARTS
Since we manufacture every assembly on site, we have many standard components in stock and can make them available to you quickly. We can produce special components at short notice.
SUSTAINABLE
With our site production, we reduce transport, emissions and traffic. We produce sustainably through optimized production processes and production processes.
FAST OFFER CREATION
We create a tailor-made offer for you at lightning speed. Thanks to our many years of experience and our wealth of knowledge, we quickly find the optimal solution for you.
24-MONTH WARRANTY
With us you receive not only a 12-month warranty, but directly a full 24 month warranty. You don't take any risks and you don't have any worries for the next few years.
Examples of our column lifters for wheelhouse
Column lifters for wheelhouse for your company
Were we able to arouse your interest in a column lifter for wheelhouse?