Manufacturer of heavy load transport vehicles < 10 tons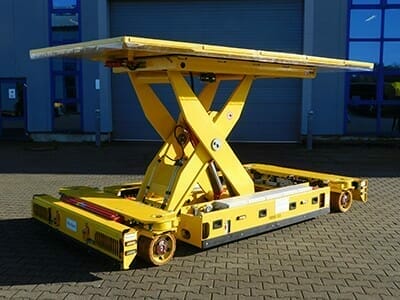 Schwerlasttransportfahrzeuge en
Our heavy-duty transport vehicles for load capacities up to 10 t are built low and have impellers with a diameter of 330 mm. They are optionally available with an integrated lifting platform. The lifting platform is designed as a floating platform that is hydraulically adjusted. The vehicles are equipped with all-wheel drive and various steering programs, which allows a very flexible use.
Product
Various driving programs ensure a high manoeuvrability and precise positioning of the vehicle. The following steering functions are possible (OmniDrive):
All-wheel steering
Front steering
Rear steering
Cross-country ride
Diagonal ride
Circular ride
The chassis is designed for rides on the hall floor. It handles inclines of up to 3 .
Applications
These vehicles are mainly used for the maintenance and maintenance as well as for the construction of rail vehicles, in particular for the replacement of heavy and bulky components such as bogides, wheelsets or underfloor components.
Properties
Particularly robust and durable construction
Extremely high positioning accuracy
Energy-efficient electric drives; High-range batteries
Optional additional equipment, e.g. additional adapters for component mounting
Electronic control from our own production
Safe and ergonomic
Your benefits and benefits
Individual: Tailor-made solutions, individually tailored to your needs.
Cost-effective: High positioning accuracy at a relatively low cost.
Good acceptance: The vehicles are quickly understood and well accepted by your employees.
Proven industry standard,therefore versatile.
Low maintenance costs thanks to low-maintenance components.
Efficient operation: Flexible adjustment to the task, fewer charging cycles.
Individually designed according to customer specifications
Equipment and features of our individual heavy-duty transport vehicles in detail
On request with autonomous control
Indoor and outdoor driving possible
Transverse and circular journeys for a variety of designs
Automatic recognition and opening of gates
Obstacle detection with stop and onward journey
10 tons payload, 2 meters stroke
Compact design: 500 mm height, 4000 mm length, 1850 mm width
With move platform
AGV technology can be applied independently to any type of construction
Benefit from our many years of experience
Individually according to your wishes
We produce for you exactly according to your wishes. Whether standard products or special solutions, we have the right and tailor-made solution for all industrial sectors.
PRODUCTION & SERVICE FROM A SINGLE SOURCE
We manufacture almost every single part of our products directly at our site. This gives you above-average quality and our fast service for maintenance and repairs.
SPARE PARTS
Since we manufacture every assembly on site, we have many standard components in stock and can make them available to you quickly. We can produce special components at short notice.
SUSTAINABLE
With our site production, we reduce transport, emissions and traffic. We produce sustainably through optimized production processes and production processes.
FAST OFFER CREATION
We create a tailor-made offer for you at lightning speed. Thanks to our many years of experience and our wealth of knowledge, we quickly find the optimal solution for you.
24-MONTH WARRANTY
With us you receive not only a 12-month warranty, but directly a full 24 month warranty. You don't take any risks and you don't have any worries for the next few years.
Examples of our heavy-duty transport vehicles < 10 tons
Heavy-duty transport technology for your company
Were we able to arouse your interest in a heavy load transport vehicle?