Loading platforms in elevator technology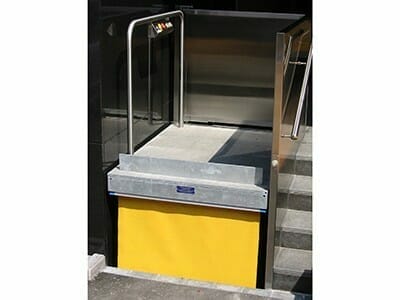 Versatile customizable thanks to modular principle
Loading platforms are used to compensate for the height differences between a vehicle and a loading ramp and to move heavy loads. They are precisely adapted to the conditions of the loading ramp and are so safe that every driver and employee can operate them without any problems.
Our loading platforms have been designed precisely according to these criteria: thanks to the modular principle, you can adapt them to any loading ramp and meet all safety needs without any problems.
You do not have to commit to a configuration right from the start: Our loading platforms can also be supplemented during the design phase with additional components such as segmented and automated loading flaps, portal scaffolding or even underrun protection.
Applications
Our loading platforms are used in all industries, most often by logistics companies. They are used to lift heavy loads, mainly when loading and unloading trucks. As a rule, these are equipped with an upper and lower stop with associated operating units, so that the employees can operate the loading platforms comfortably and safely.
Properties
Electronic control system, individually programmed according to customer requirements
Versatile expandable (construction kit system) with fall protections, loading flaps, gantry scaffolding, underflow protection, etc.
Particularly robust and durable construction
High force density, i.e. space-saving construction at maximum lifting capacity
High-quality hydraulic cylinders from our own production
Sliding solid rollers with low-maintenance plain bearings
Hydraulically driven scissor mechanism
Your benefits and benefits
Perfectly adaptable to your needs: Thanks to the modular principle and the individual electronic control system, you receive loading platforms that are perfectly tailored to your requirements.
Versatile expandable: If your needs change, you can easily retrofit or reconfigure the loading platforms on request.
Less repair and maintenance costs: We only use durable, low-maintenance components. This reduces repair and maintenance costs.
High safety standards: Our loading platforms are not only robustly built, but are also designed for maximum job safety.
Benefit from our many years of experience
Individually according to your wishes
We produce for you exactly according to your wishes. Whether standard products or special solutions, we have the right and tailor-made solution for all industrial sectors.
PRODUCTION & SERVICE FROM A SINGLE SOURCE
We manufacture almost every single part of our products directly at our site. This gives you above-average quality and our fast service for maintenance and repairs.
SPARE PARTS
Since we manufacture every assembly on site, we have many standard components in stock and can make them available to you quickly. We can produce special components at short notice.
SUSTAINABLE
With our site production, we reduce transport, emissions and traffic. We produce sustainably through optimized production processes and production processes.
FAST OFFER CREATION
We create a tailor-made offer for you at lightning speed. Thanks to our many years of experience and our wealth of knowledge, we quickly find the optimal solution for you.
24-MONTH WARRANTY
With us you receive not only a 12-month warranty, but directly a full 24 month warranty. You don't take any risks and you don't have any worries for the next few years.
Examples of our loading platforms
Loading platforms for your company
Were we able to arouse your interest in a loading platform?