Coil transport vehicles for aluminium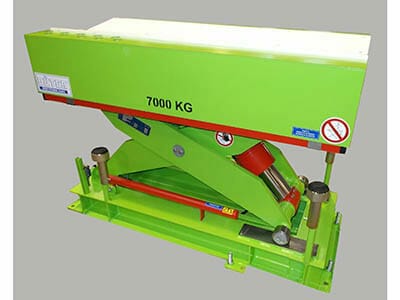 Coil transport vehicles for the steel industry
Coil transport vehicles find a wide range of applications in the steel and aluminium industries. As a rule, the coil is handed over via the RBG shelf control unit, which stores and outs the coils.
We offer not only rail-guided vehicles, but also freely movable models with all-wheel drive and all-wheel steering. These are equipped with various steering programs, which allows for extremely flexible use. Our coil transport vehicles are optionally available as lifting vehicles with integrated lifting equipment.
Product
The OmniDrive drive concept enables precise positioning of the vehicles in all directions. In addition to front and rear-wheel steering, cross-driving, inclined or circular driving are also possible. The clever thing is that no steering movements are required at all; the steering is carried out only by controlling the direction of rotation and the speed of the wheels. This makes every possible vehicle movement possible in the tightest of spaces.
Various versions are available for the energy supply:
Wired systems
Battery drives with stationary charging stations
Inductive power transmission (wireless and non-contact)
In this way, the coil transport vehicles can be used very flexibly and – in the case of battery drive or inductive transmission – are easily accessible from all sides, without disturbing energy chains or the like.
Applications
Coil transport vehicles are used in the steel and aluminium industry, but also in the paper and plastics industry.
Properties
Robust and durable construction
Sliding solid rollers; Low-maintenance plain bearings
Hydraulically driven scissor mechanism with hydraulic cylinders from our own production
Electronic control with customer-specific programming
Your benefits and benefits
Smooth operation: Perfect integration into your processes and low susceptibility to repair ensure trouble-free processes.
Long service life: Durable construction, designed exclusively with high-quality components.
Low maintenance costs thanks to low-maintenance components.
Longevity: Robust construction, insensitive to external influences.
Benefit from our many years of experience
Individually according to your wishes
We produce for you exactly according to your wishes. Whether standard products or special solutions, we have the right and tailor-made solution for all industrial sectors.
PRODUCTION & SERVICE FROM A SINGLE SOURCE
We manufacture almost every single part of our products directly at our site. This gives you above-average quality and our fast service for maintenance and repairs.
SPARE PARTS
Since we manufacture every assembly on site, we have many standard components in stock and can make them available to you quickly. We can produce special components at short notice.
SUSTAINABLE
With our site production, we reduce transport, emissions and traffic. We produce sustainably through optimized production processes and production processes.
FAST OFFER CREATION
We create a tailor-made offer for you at lightning speed. Thanks to our many years of experience and our wealth of knowledge, we quickly find the optimal solution for you.
24-MONTH WARRANTY
With us you receive not only a 12-month warranty, but directly a full 24 month warranty. You don't take any risks and you don't have any worries for the next few years.
Examples of our coil transport vehicles
Coil transport vehicles for your company
Were we able to arouse your interest in coil transport vehicles?