Manufacturer of hydraulic turning devices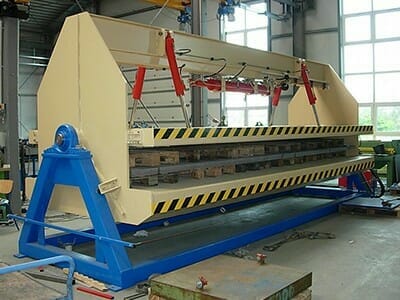 BÜTER-Turning devices: Strong, precise, intelligent
Our users master the art of packing a tonne-heavy component with a precisely defined pressing force and turning over the longitudinal axis as easily and precisely as if you were holding it in your own hand.
To ensure that the users integrate perfectly into your workflows, they can be equipped with additional functions and clamping adapters. For example, it is possible to use the changer for welding on heavy components, so that the welds are optimally accessible in every position of the workpiece. For this purpose, the wender is equipped with grounding clamps and ball bolts to safely dissipate the welding current.
Applications
Our users are used in all industries, mainly in industry. They are used wherever heavy loads need to be precisely turned.
Properties
The rotational movement is implemented with electric/hydraulic swivel drives
Hydraulic cylinders come from our own production
The construction is particularly robust and durable
Our users can be flexibly adapted to customer requirements
The electronic control of the wender comes from our own production and is adapted to the customer's requirements
Your benefits and benefits
Fully integrated into your systems: You can integrate our users seamlessly into your systems, because we tailor design and control to your individual needs.
Efficient workflows: Thanks to the perfect alignment of our machines to the existing infrastructure and your workflows, you reduce unnecessary effort and ensure short downtimes.
Long service life: Thanks to its robust construction, the machine is very durable.
Low operating costs: Our machines are consistently designed with low maintenance.
Benefit from our many years of experience
Individually according to your wishes
We produce for you exactly according to your wishes. Whether standard products or special solutions, we have the right and tailor-made solution for all industrial sectors.
PRODUCTION & SERVICE FROM A SINGLE SOURCE
We manufacture almost every single part of our products directly at our site. This gives you above-average quality and our fast service for maintenance and repairs.
SPARE PARTS
Since we manufacture every assembly on site, we have many standard components in stock and can make them available to you quickly. We can produce special components at short notice.
SUSTAINABLE
With our site production, we reduce transport, emissions and traffic. We produce sustainably through optimized production processes and production processes.
FAST OFFER CREATION
We create a tailor-made offer for you at lightning speed. Thanks to our many years of experience and our wealth of knowledge, we quickly find the optimal solution for you.
24-MONTH WARRANTY
With us you receive not only a 12-month warranty, but directly a full 24 month warranty. You don't take any risks and you don't have any worries for the next few years.
Examples of our turning devices
Hydraulic turning devices for your business
Were we able to arouse your interest in a hydraulic turning device?