Manufacturers of underfloor lifting tables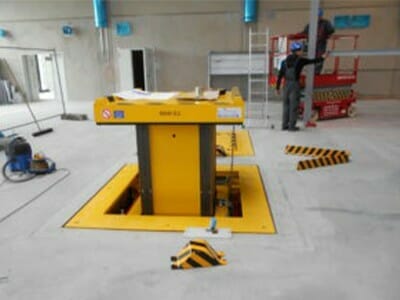 Sub-perpetrators: Inconspicuous and efficient
Sub-float scounters are either installed in a floor shaft or placed in the basement. Your platform closes at rest with the surrounding hall floor almost without a gap. In this way, a continuous level is created, so that, for example, forklift trucks can easily travel across the platforms.
Our sub-flange controllers are robust and space-savingly designed with customized programmed control. They work inconspicuously and efficiently – for years. This is ensured by our low-maintenance components and the long-lasting construction.
Applications
Our sub-creators are used in all industries, but most often in industry.
Properties
Hydraulic cylinders from in-house production
Sliding solid rollers
Low-maintenance ball bearings
Electronic control system, individually tailored to customer requirements
Particularly robust and durable construction
Your benefits and benefits
Value-preserving investment: Since we extend our systems to a long service life and manufacture all spare parts ourselves, your investment is also well invested in the long term.
Optimal use of space: BÜTER systems are characterized by compact design with maximum lifting force or force density. This saves you space.
Less repair costs: Our scissor lifting tables are robustly built and reliable to use.
Safety and ergonomics: Proven design to ensure maximum work safety with a high level of work comfort.
Benefit from our many years of experience
Individually according to your wishes
We produce for you exactly according to your wishes. Whether standard products or special solutions, we have the right and tailor-made solution for all industrial sectors.
PRODUCTION & SERVICE FROM A SINGLE SOURCE
We manufacture almost every single part of our products directly at our site. This gives you above-average quality and our fast service for maintenance and repairs.
SPARE PARTS
Since we manufacture every assembly on site, we have many standard components in stock and can make them available to you quickly. We can produce special components at short notice.
SUSTAINABLE
With our site production, we reduce transport, emissions and traffic. We produce sustainably through optimized production processes and production processes.
FAST OFFER CREATION
We create a tailor-made offer for you at lightning speed. Thanks to our many years of experience and our wealth of knowledge, we quickly find the optimal solution for you.
24-MONTH WARRANTY
With us you receive not only a 12-month warranty, but directly a full 24 month warranty. You don't take any risks and you don't have any worries for the next few years.
Examples of our underfloor lifting tables
Underfloor lifting table for your company
Were we able to arouse your interest in an underfloor lifting table?