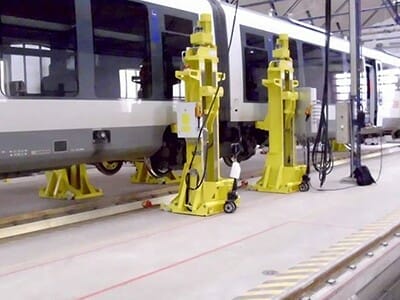 Your individual vehicle lifting platform
We offer both overfloor systems (lifting jacks) as well as underfloor systems. Both systems make it possible to lift not only individual vehicles, but also complete vehicle sets without having to decouple them.
Product
Overfloor systems are fixed or equipped with a chassis. The mobile lifting gears are available in all variants: as rail suspension or landing gear, with or without traction drive. For the reception of the rail vehicles, the hoofs can be equipped with fixed or adjustable outings and the corresponding load pads.
Underfloor lifting systems can be designed for lifting individual components, such as individual bogets, or entire vehicles. With our systems, you can realize extremely efficient lifting lines, where by combining bogie and car box jacks, several bogies can be changed at the same time without having to lower the vehicle in between.
If you need systems for maintenance, but want to do without foundation work, then our overfloor systems are exactly right. They provide optimal maintenance access to the underside of the rail vehicles.
We produce the control of the plants ourselves. Our safety PLC with integrated synchronisation control fully complies with the final DIN EN 1493 for vehicle lifting platforms.
Applications
The BÜTER vehicle lifting systems are mainly used in the rail vehicle industry, but also for lifting trucks, buses, construction machinery, tanks, etc. They are mainly used for the maintenance and maintenance of the vehicles.
Properties
Both overfloor and underfloor systems
Flexible to suit your needs thanks to numerous designs
Easy-to-understand and safe operation
Safe lifting system with self-locking trapezoidal thread spindle
Foundationless in mobile systems, usable on several tracks
Expandable by additional equipment such as mobile support blocks, load beams, etc.
Individually programmable system control according to your requirements
Safety PLC with integrated synchronisation control according to DIN EN 1493
Robust, durable, low-maintenance machines
Your benefits and benefits
Long service life: Durable construction, designed exclusively with high-quality components.
High security: Our systems are designed for maximum work and operational safety and meet the latest safety standards.
Efficient workflows: Design your workflows with maximum efficiency by realizing lifting lines tailored to your needs
Smooth operation: We manufacture and store almost all spare parts ourselves. Therefore, we deliver every spare part within the shortest possible time.
Low investment costs: On request, we supply systems that require no or only a few foundation work (working pits).
Expandable plants: Our systems can be flexibly expanded and adapted to changing requirements.
Benefit from our many years of experience
Individually according to your wishes
We produce for you exactly according to your wishes. Whether standard products or special solutions, we have the right and tailor-made solution for all industrial sectors.
PRODUCTION & SERVICE FROM A SINGLE SOURCE
We manufacture almost every single part of our products directly at our site. This gives you above-average quality and our fast service for maintenance and repairs.
SPARE PARTS
Since we manufacture every assembly on site, we have many standard components in stock and can make them available to you quickly. We can produce special components at short notice.
SUSTAINABLE
With our site production, we reduce transport, emissions and traffic. We produce sustainably through optimized production processes and production processes.
FAST OFFER CREATION
We create a tailor-made offer for you at lightning speed. Thanks to our many years of experience and our wealth of knowledge, we quickly find the optimal solution for you.
24-MONTH WARRANTY
With us you receive not only a 12-month warranty, but directly a full 24 month warranty. You don't take any risks and you don't have any worries for the next few years.
Examples of our vehicle lifting platforms
Vehicle lifting platforms for your company
Were we able to arouse your interest in a vehicle lifting platforms?