Manufacturer of workshop equipment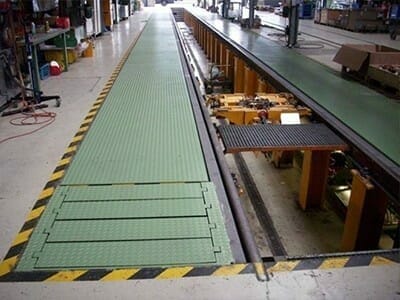 Complete range for top-equipped railway workshops
BÜTER offers a comprehensive range of lifting tables and machines for railway-technical workshop operation: lifting turning devices, tilting devices, load lifts, lifting tables for wheel set, bogie and component preparation. In addition, there are hydraulic pit covers and lifting stairs.
The different products have one thing in common: the BÜTER quality. We attach great importance to the in-house production of all important components, to a particularly robust but space-saving design as well as to safe and ergonomic handling.
Assortment details
Hub-turning devices
Hub-turning devices can be used for bogie frames or complete bogs.
Bogie mounting stands
For the assembly and disassembly of bogies, mounting stands with movable and telescopic lifts provide ergonomic and safe working.
Wheelset preparation
Lifting tables for wheel set preparation are available as single or double tables. They can be equipped with additional equipment, for example with attachments for horizontal turning and turning of the wheelsets. These lifting tables can also be chained together.
Mine covers
Hydraulic pit covers close unused side or center pits free of gaps. This is recommended in confined spaces to prevent accidents at work.
VARIO Stairs
The face-side stair access to work pits can be designed by means of a hydraulic lifting staircase in such a way that it can be raised to a flat surface, gap-free to the hall floor, then. This creates an extended hall area without a crash edge when not using the work pit or track.
Applications
Our workshop equipment is mainly used in the rail vehicle industry to process the various components – wheel sets, wheel frames, underfloor components, etc. – as well as for securing work pits.
Properties
Robust and durable construction
Simple and ergonomic handling
Innovative solutions
Mobile systems can be used without structural measures on the foundations
Expandable by additional equipment, for example by load trusses
Safe lifting systems with hydraulic cylinders from our own production
Tailor-made solutions tailored to customer needs
Your benefits and benefits
Smooth operation: Perfect integration into your processes and low susceptibility to repair ensure trouble-free processes.
Long service life: Durable construction, designed exclusively with high-quality components.
Low maintenance costs thanks to low-maintenance components.
Efficient use of space: Space-saving construction with high power density.
Benefit from our many years of experience
Individually according to your wishes
We produce for you exactly according to your wishes. Whether standard products or special solutions, we have the right and tailor-made solution for all industrial sectors.
PRODUCTION & SERVICE FROM A SINGLE SOURCE
We manufacture almost every single part of our products directly at our site. This gives you above-average quality and our fast service for maintenance and repairs.
SPARE PARTS
Since we manufacture every assembly on site, we have many standard components in stock and can make them available to you quickly. We can produce special components at short notice.
SUSTAINABLE
With our site production, we reduce transport, emissions and traffic. We produce sustainably through optimized production processes and production processes.
FAST OFFER CREATION
We create a tailor-made offer for you at lightning speed. Thanks to our many years of experience and our wealth of knowledge, we quickly find the optimal solution for you.
24-MONTH WARRANTY
With us you receive not only a 12-month warranty, but directly a full 24 month warranty. You don't take any risks and you don't have any worries for the next few years.
Examples of our workshop equipment
Workshop equipment for your company
Were we able to arouse your interest in workshop equipment?