Front elevating work platforms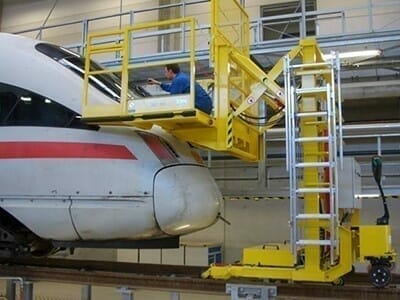 Front elevating work platforms are used to carry out work on the front/front sides of rail vehicles. Our work platforms are designed as 2-way vehicles that can travel freely on the floor of the hall, both on rail and with four-wheel steering. Track detection can be done via an RFID transponder. They are battery-operated and controlled by a wired control panel.
In order to adapt the work platform to different vehicle contours, they have front-facing telescopic traysthat are manually or motorically adjustable. Lifting movements are only possible when the overhead line is switched off and grounded. This is ensured by an electrical key lock,which is coupled with your overhead line locking system.
Applications
The front work platform is used to carry out work on the end of the vehicle: windshields, windscreen wipers, headlights, etc.
Properties
2-way chassis, both for rail and corridor
Battery-electric drive and hoist drive
Compact design
Extendable telescopic trays for adaptation to vehicle contours
Safety devices according to the latest standards
Your benefits and benefits
Long service life: Thanks to its robust construction, the machine is very durable.
Safety and ergonomics: Proven design to ensure maximum work safety with a high level of work comfort.
User-friendly: Easy-to-understand operating concept that shortens the training time and ensures good acceptance among employees.
Flexible: Our front work platforms can be individually adapted to your needs and can be used equally well for different vehicle types.
Benefit from our many years of experience
Individually according to your wishes
We produce for you exactly according to your wishes. Whether standard products or special solutions, we have the right and tailor-made solution for all industrial sectors.
PRODUCTION & SERVICE FROM A SINGLE SOURCE
We manufacture almost every single part of our products directly at our site. This gives you above-average quality and our fast service for maintenance and repairs.
SPARE PARTS
Since we manufacture every assembly on site, we have many standard components in stock and can make them available to you quickly. We can produce special components at short notice.
SUSTAINABLE
With our site production, we reduce transport, emissions and traffic. We produce sustainably through optimized production processes and production processes.
FAST OFFER CREATION
We create a tailor-made offer for you at lightning speed. Thanks to our many years of experience and our wealth of knowledge, we quickly find the optimal solution for you.
24-MONTH WARRANTY
With us you receive not only a 12-month warranty, but directly a full 24 month warranty. You don't take any risks and you don't have any worries for the next few years.
Examples of our front work platforms
Front elevating work platforms for your company
Were we able to arouse your interest in a front elevating work platform?