Manufacturer of stationary roof work platforms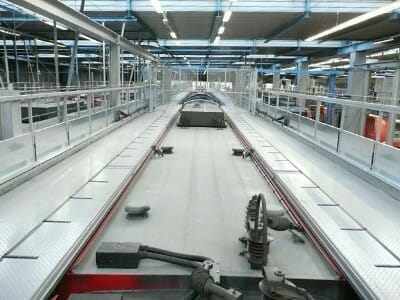 Stationary roof work platforms from Büter: economical, safe, flexible
The roof work platforms consist of two parallel work platforms, which are seamlessly connected to the vehicle contour by extendable telescopic platforms ("split dimension zero"). Forehead railings create a crash-proof working area.
The access doors can be equipped with electrical locking systems and additional locking systems, depending on the requirements. We can connect the safety control system to your overhead line control system or power line system to ensure maximum safety.
Product
Fixing: The stationary roof work platforms can be raised with supports from the floor of the hall, suspended from the hall roof construction or fixed by means of a secondary structure.
The roof work platforms are modular in a lightweight steel construction. This design principle allows roof work platforms that are as light as an aluminum construction but have the stiffness of a steel construction.
The end-side fall protections are also modular, so that they can also be supplemented or retrofitted later. Our face-side fall protections also offer maximum personal protection.

Applications
Stationary roof work platforms are used in workshops for the maintenance and maintenance of rail vehicles or buses. They provide ergonomic access to the roof areas of rail vehicles and buses, in particular to pantographs, air conditioners and other superstructures.
Properties
Particularly robust and durable steel construction
Low dead weight of the modules with maximum inherent stiffness
All metal parts are electrically conductively connected to each other
Comprehensive fuse against electrical currents from the overhead line
Short assembly times thanks to factory-made and tested work platforms
Expandable with optional additional equipment such as movable mid-fall fuse
Your benefits and benefits
Quick installation: Short construction times and rapid deployment.
Good employee acceptance: Your employees will appreciate the ease of use and the high practical benefits.
High safety standards: Proven, intelligent security features for personal security.
Low investment costs: Thanks to its high utility value and long service life, your investment pays off for you.
Low operating costs: Low-maintenance components and robust construction contribute to economical operation.
Benefit from our many years of experience
Individually according to your wishes
We produce for you exactly according to your wishes. Whether standard products or special solutions, we have the right and tailor-made solution for all industrial sectors.
PRODUCTION & SERVICE FROM A SINGLE SOURCE
We manufacture almost every single part of our products directly at our site. This gives you above-average quality and our fast service for maintenance and repairs.
SPARE PARTS
Since we manufacture every assembly on site, we have many standard components in stock and can make them available to you quickly. We can produce special components at short notice.
SUSTAINABLE
With our site production, we reduce transport, emissions and traffic. We produce sustainably through optimized production processes and production processes.
FAST OFFER CREATION
We create a tailor-made offer for you at lightning speed. Thanks to our many years of experience and our wealth of knowledge, we quickly find the optimal solution for you.
24-MONTH WARRANTY
With us you receive not only a 12-month warranty, but directly a full 24 month warranty. You don't take any risks and you don't have any worries for the next few years.
Examples of our
stationary roof work platforms
Stationary roof work platforms for your company
Were we able to arouse your interest in a stationary roof work platform?